---
Story Time ~ 1,000 Books ~ Summer Reading Program
---
Story Time
Story Time Is Here!
We will continue in-person programming as long as public health conditions allow.
Program days and times are:
Crewe Library - Wednesdays 10:30 to 11:30 am
Burkeville Library -Thursdays 10:30 to 11:30 am
Blackstone Library - Fridays 10:30 to 11:30 am
For more information contact your local branch.
If you can't make it to our Story Time, why not try the Library of Virginia's Dial a Story?
Simply call 1-833-690-0646 to hear a story read in both English and Spanish. Each Wednesday, a new story will be available to listeners around the state. The stories will be a rotation of recent picture books, fairy tales and folk tales, books highlighting equity, diversity and inclusion, and classic picture books and is available  24/7.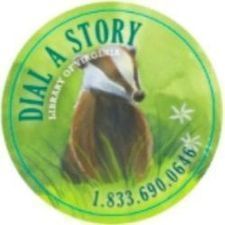 ---
1000 Books Before Kindergarten
Why 1000 Books Before Kindergarten?
Because reading now will help your child's future. Studies have shown that reading aloud to children helps build language skills and vocabulary, and it improves attention spans and listening skills – important tools your child will need.
Because in as little as 15 minutes a day – that's three, five-minute stories – families can build the skills their children need for future success in school and in life.
Because reading with your young child helps to stimulate brain development and strengthens a parent's relationship with the child.
How it works:
Get a reading log at any Nottoway County branch library.
Each time you read a book with your child, color a circle on the reading log.
Stories read at daycare or preschool, at Story Time, or at Grandma's house count too!
When you complete one log, exchange it for a new one and receive a free book.
---
Summer Reading Program
THE 2022 SUMMER READING PROGRAM WAS A GREAT SUCCESS - WE HOPE YOU'LL JOIN US AGAIN NEXT YEAR!
In the meantime, please continue trying new authors and genres!  In the words of Dr. Rudine Sims Bishop...
"Books are sometimes windows, offering views of worlds that may be real or imagined, familiar or strange. These windows are also sliding glass doors, and readers have only to walk through in imagination to become part of whatever world has been created and recreated by the author. When lighting conditions are just right, however, a window can also be a mirror.
Literature transforms human experience and reflects it back to us, and in that reflection we can see our own lives and experiences as part of the larger human experience. Reading, then, becomes a means of self-affirmation, and readers often seek their mirrors in books. (1990)"