Friends of Blackstone Library - Nottoway County Public Library System
Don't Miss the Book End's Monthly Sales - 3rd Saturday of the Month from 10-2...
Who are the Friends?
The Friends is a 501(c)3 voluntary organization of local people like you who are committed to supporting the preservation and growth of the Louis Spenser Epes Memorial Library.
These people appreciate the many fine services available through the library and want to see these services continue to meet the needs of the community.
What do the Friends do?
Help generate community support for the library and greater awareness of the variety of services and resources available there.
Volunteer help to the library when needed.
Operate and maintain The BOOK END, the home of gently used books located at 102 Maple Street in Blackstone, VA.
Conduct book sales and special events.
Provide support for children's programs.
Buy special equipment and books for the library, which may not otherwise be available through current funding.
Stimulate gifts and bequests.
When do the Friends meet?
The Board meets the third Tuesday of each month. There is an annual meeting for the members held at a special time each year.
How do I become a member of the Friends of the Library, Blackstone?
Fill out the short application found at the library. Leave the application along with your donation at the Library or Book End. Checks should be made payable to: FRIENDS of the Library, Blackstone.
The Friends hope you will share your time, talent and ideas about the library.
---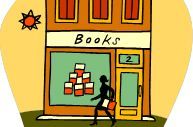 THE BOOK END
The home of gently used books
102 Maple Street
Blackstone, VA 23824
Please visit The Book End for the current operating hours.
The Book End is a used bookstore operated by the Friends of the Library, Blackstone. You will find books for all ages from 25¢ to $4.00 plus a nice selection of first editions competitively priced. Monthly sale specials are posted in the store.
Volunteers are always welcomed to assist us by donating time to work at the Book End.
To volunteer at the Book End please contact Arrol Lund at 434-298-8792 (leave a message).
For more information about the Friends of the Blackstone Library please contact Tilly Conley at 434-294-1591.